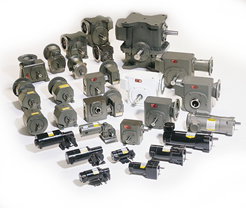 Different jobs are driven by different electric gearboxes. But no matter whether you need a severe duty solution that delivers day after day in any conditions, or a self-locking worm gearbox for an industrial application, Brehob can help.
Our expert team provides unique, custom solutions for our customers with their specific needs in mind — and supplies the fix they need, every single time.
Brehob also helps keep your system healthy, offering preventative maintenance, as well as around the clock emergency service 365 days a year. This proactive approach helps keep everything from your electric motor gearboxes to your OEM motors and gears running smoothly, all the time.
Industry-Leading Products from Trusted Partners
We're committed to selling and servicing gearbox products from industry-leading gearbox manufacturers including:
Baldor-Reliance
Leeson/Grove Gear
Sterling
Worldwide/Hyundai
TECO-Westinghouse
Motovario
Dodge
Call 317-231-8080 to learn more about how Brehob can help meet your gearbox needs.
WHY CHOOSE BREHOB? BECAUSE WE'RE…