It's time to clear the air.
Quincy oil-free air compressors deliver purity, efficiency and reliability.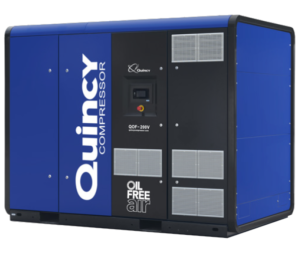 If you're in the food services or pharmaceutical industry, you're ready for a breath of fresh air. Get it with oil-free compressors from Quincy, the leading manufacturer of industrial-grade air compressors, available from Brehob.
Oil-free air compressors from Quincy offer numerous benefits in industries where air purity is a must, with benefits like:
Class Zero air quality to keep you free from contamination
Low maintenance and operating costs to boost your bottom line
Innovative oil-free scroll technology and maximum efficiency
Lower temperatures to reduce stress on equipment and expand lifespan
Phase sequence relay available for automatic shutdown in the case of phase loss or reversal
Prefiltration kit available to protect compressor in dusty or dirty environments
When you need 100% certified oil-free air, you need Quincy. The all-new line of oil-free air compressors is now available at Brehob, where we deliver service and satisfaction, guaranteed.
When purity matters, count on Quincy, delivered by Brehob. Contact us today to talk about your oil-free air compressor needs.