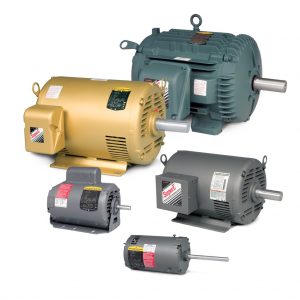 At Brehob, we make a point of working with the industry's most innovative and dependable manufacturers—because our customers deserve the best. And when it comes to industrial electric motors and drives, one company—made up of two separate and well known names—stands out: Baldor/ABB.
The History
Baldor Electric has been a part of the ABB Group since 2011, but both brands have a long history of excellence in industrial manufacturing. Baldor was founded in 1920 with the aim of designing a better motor that used less electricity. Since then, they've become known for their emphasis on quality and high-performance solutions. Likewise, ABB has roots stretching back to 1883 and a reputation for helping industries reach new levels of efficiency and energy savings. Together, Baldor and ABB provide a comprehensive range of reliable equipment for all applications.
What Makes Baldor/ABB Different
"Combining the best available materials with superior technology, the electric motors and generators are designed to operate reliably no matter how challenging the process or application, and to have low life cycle costs." – ABB
Baldor/ABB works closely with customers in a variety of industries to develop technology that keeps them on the forefront of industrial digitalization. The variety of products available means you can find exactly what you need and scale your business, all while optimizing your energy efficiency.
But when it comes down to it, the key for both Baldor and ABB products (and the reason why Brehob is an authorized distributor) is summed up with one word: reliability. When you use Baldor/ABB products, you know you've got equipment you can depend on.
The Products
Brehob is happy to offer a variety of Baldor and ABB models in stock so you can get what you need fast. We're the only U.S. stocking distributor of ABB drives up to 300 HP. For Baldor electric motors, we stock from 1/3 to 100 HP—and if you need something different, chances are we can get it for you quickly.
Here are some of our most popular Baldor/ABB offerings.
ABB:

ACS550® Series (always in stock)
ACS880® Series (always in stock)
ACH550® Series 

Baldor Electric:

Gold Series
General purpose motors (always in stock)
Severe duty motors
Wash down duty motors
Food grade duty motors
Explosion proof motors
Farm duty motors
Definite purpose motors
IEC frame motors  
We also offer Baldor/ABB products online through Brehob Direct, including ABB drives and parts, (inverters, key pads, NEMA 1 enclosures, low voltage AC drives, micro drives, and more) and Baldor electric motors ranging from 0.05HP to 50HP.
Want to talk about the equipment you need? Give us a call at 317-231-8080 today.