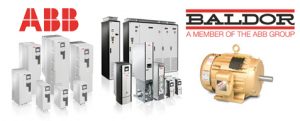 Baldor has announced a price increase on all ABB, Baldor, and Baldor-Reliance electric motor products effective on all orders shipped after January 1, 2018.
Brehob has quick access to available inventory and can help you meet the delivery deadline.
Call our Electric Division today to place your order – (317) 231-8080 or fill out the form to the right with the item you are interested in.
Hurry, these motors won't last long!
---
 AVAILABLE PRODUCTS
To view Baldor's catalog click here.
Brehob can offer you the best available price so be sure to call us today or contact your Brehob sales representative.
Below is a complete list of Brehob's available inventory that can be provided to you before the January 1, 2018 ship date deadline. 
CEM3313T

10HP,1770RPM,3PH,60HZ,215TC,OPSB, ROLLED
1 in stock
$1,622

CEM3611T

3HP 3-230/460-1750 FR182TC TE ROLLED EA
1 in stock
$912

CJM3155

2-3-460-3450 FR56J DP SS JP ROLLED
1 in stock
$649

EJMM3314T-G

15HP,3500RPM,3PH,60HZ,215JM,OPSB, ROLLED
1 in stock
$2,479

EMM3611

DISCONT 2.2KW,1760,D100L,TEFC ROLLED
1 in stock
$879

EMM5550

.75KW-1HP/1710RPM/3PH/TEFC/IEC D80 ROLLD
3 in stock
$649

EM2333T

15HP 1765 3PH 254T TEFC BALOR CAST
1 in stock
$2,306

EM2334T

20HP 1765 3PH 256T TEFC BALDOR CAST
5 in stock
$2,796

EM25

13T 15HP,1765RPM,3PH,60HZ,254T,ODP ROLLED
1 in stock
$2,367

EM2531T

25HP,1770RPM,3PH,60HZ,284T,4050M,OPSB,F1
1 in stock
$3,166

 EM2513T-G

15HP,1765RPM,3PH,60HZ,254T,OPSB,F1 AEGIS
1 in stock
$2,660

EM3218T

5HP,1760RPM,3PH,60HZ,184T,OPSB, ROLLED
1 in stock
$940

EM3313T

10HP,1770RPM,3 PH,215T,OPSB 230/460 ROLL
1 in stock

EM3558T

2HP,1755RPM,3PH,60HZ,145T,TEFC ROLLED
1 in stock
$867

EM3559T

3HP, 3450 RPM,145T, TEFC 230/460 ROLLED
1 in stock
$871

EM3613T 5HP, 3450 RPM,184T, TEFC, 230/460 ROLLED
EM3708T

5HP,1160RPM,3PH,60HZ,215T,3748M,TEFC,F1
1 in stock
$1,524

EM3710T

7.5HP,1770RPM,3PH,60HZ,213T ROLLED
1 in stock
$1,326

EM3710T-G

7.5HP 1770 213T 230/460 3PH TEFC ROLLED
1 in stock
$1,547

EM3713T 15HP,3500 RPM,215T, TEFC, 230/460 ROLLED
EM3714T

10HP 1770RPM 3PH 215T TEFC BALDOR ROLLED
1 in stock
$1,497

EM3714T-G

10HP,1770RPM,3PH,60HZ,215T,3752M,TEFC,F1
1 in stock
$1,718

EM3771T

10HP,3490RPM,3PH,60HZ,215T,0729M,TEFC,F1
1in stock
$1,830

EM3774T

10HP,1760RPM,3PH,60HZ,215T,TEFC CAST
3in stock
$1,687

JMM3616T

7.5HP 3600 230/460 184JM TEFC ROLLED
1 in stock
$1,249

L1200

.17HP, 1725, 1 PH, OPEN, 48 FRAME,ROLLED
1 in stock
$279

MM3611

2.2KW,1750RPM,3PH,D100L,TEFC ROLLED
1 in stock
$545

MM5350

.37KW-.50HP/1690RPM/3PH/TEFC/IEC D71 RS
7 in stock
$338

P18G4902

3HP,1755RPM,3PH,60HZ,182T,TEFC,FOOT CAST
3 in stock
$820

VEM3615T

5HP,1750RPM,3PH,60HZ,184TC,3642M,TEFC,F1
1in stock
$336.94

VL3501

1/3HP 1-115/230-1725 FR56C TE ROLLED
3 in stock
$372

VL3514

1.5HP,1725RPM,1PH,60HZ,56C,3532LC,TEFC,F
1 in stock
$647

VM3154

1.5HP,1725RPM,3PH,60HZ,56C,BALDOR ROLLED
1 in stock
$517

VM3550

1.5-3-3450-56C-TE-BALDOR MOTOR ROLLED
1 in stock
$537

VM3558

DISCONTINUED, USE VEM3558
1 in stock
$546

VM3611T

3HP 3-230/460-1725 FR182TC TEFC ROLLED
1 in stock
$711

VM3614T

2 1200 184TC 230/460 TEFC ROLLED
1 in stock
$938

09FN3001D01

BALDOR FAN BLADE
6 in stock
$30

33-1788-673G1

MM3461 SPEC MOTOR .37KW 1725 D71 MM5350
1 in stock
$393.50

34G167W317G1

EMM5550.75KW,3450RPM,3PH,D80, TEFC,B3
2 in stock
$428

ACH-CP-B

ABB ACH ADVANCED CONTROL KEY PAD
2 in stock
$175

ACS-CP-A

KEY PAD ACS550 ABB
2 in stock
$150

ACS-CP-C

BASIC CONTROLLER PANEL ABB
2 in stock
$75

ACS-CP-EXT

KEYPAD REMOTE MOUNTING KIT – 10FT CABLE
2 in stock
$55

ACS150-03U-04A7-2

INVERTER 1HP 230V IP20 ABB
1 in stock
$270

ACS150-03U-08A8-4

INVER 5HP 480V IP20 ABB
1 in stock
$564

ACS355-03U-04A1-4

ABB DRIVE, AC, 2HP, 480V, 4.1A, CT, OP
1 in stock
$529

ACS550-U1-012A-4

INVERTER 7.5/5 HP, 480V, NEMA 1, ABB R1
3 in stock
$1,419

ACS550-U1-015A-4

INVERTER 10/7.5 HP, 480V, NEMA 1, ABB R2
1 in stock
$1,484

ACS550-U1-023A-4

INVERTER 15/10 HP, 480V, NEMA 1, ABB R2
1 in stock
$1,935

ACS550-U1-031A-4

INVERTER 20/15HP 460V NEMA 1 ABB R3
2 in stock
$2,355

ACS550-U1-038A-4

INVERTER 25/20HP 480V NEMA 1 ABB R3
1 in stock
$3,213

ACS550-U1-045A-4

INVERTER 30/25HP 480V NEMA 1 ABB R3
1 in stock
$4,151

ACS550-U1-059A-4

INVERTER 40/30HP 480V NEMA 1 ABB R4
1 in stock
$4,951

ACS550-U1-06A9-4

INVERTER 3/2 HP, 480V, NEMA 1, ABB R1
1in stock
$951

ACS550-U1-072A-4

INVERTER 50/40HP 480V NEMA 1 ABB R4
1 in stock
$6,121

ACS550-U1-078A-4

INVERTER 60/50, 480V NEMA1, ABB R4
2 in stock
$7,122

ACS550-U1-08A8-4

INVERTER 5/3 HP, 480V, NEMA 1, ABB R1
1 in stock
$1,107

ACS550-U1-180A-4

INVERTER 150/125 HP 480V NEMA 1 ABB R6
1 in stock
$1,3994

ACS880-01-240A-5

INVERTER 200/150 HP 480V NEMA 1 ABB R8
1 in stock
$1,8800

ACS880-01-361A-5

INVERTER 300/250 HP 480V NEMA 1 ABB R9
1 in stock
$2,5861

FDNA-01-KIT

DEVICENET KIT -ABB- FOR USE ON 800 ONLY
2 in stock
$277

FEN-31

ABB ENCODER FEEDBACK CARD ACS880
1 in stock
$465

FENA-11-KIT

ETHERNET IP COMMUNICATIONS CARD ACS880
1 in stock
$400

MUL1-R1

NEMA 1 ENCLOSURE ABB
2 in stock
$75

MUL1-R3

NEMA 1 ENCLOSURE ABB
2 in stock
$75

OHDI-01-KIT

115/230V DIGITAL INPUT INTERFACE ABB
2 in stock
$300

OTAC-01-KIT

PULSE ENCODER INTERFACE ABB ACS550 ONLY
1 in stock
$290

RDNA-01-KIT

DEVICE NET KIT -ABB- FOR USE ON 550 ONLY
2 in stock
$465

RETA-01-KIT

ETHERNET ADAPTER MODULE ACS550 OR ACS800
3 in stock
$465

SDCS-IOB

ABB 3ADT783044R0002 IOB-22 W/ 1 CABLE
1 in stock
$729

68257867

ABB MAIN INTERFACE AINT-02C SP ACS800
2 in stock
$802.75