Since Brehob was established in 1953, we've made people our priority. Our founders, Al Brehob and Charles Smither, believed that business should be based on a simple principle—treat employees like family and customers like you'd like to be treated. We know we wouldn't be where we are without the team members that devote their time and efforts to our company and our customers.
So when we realized we had 35 Brehob employees that had worked for us for over 20 years, we knew we had to find a way to pay tribute to their dedication and the impact they've had on all of us. We spoke to three of these employees—one from each of Electric, Air Compressor, and Crane & Hoist divisions—about what it's like at Brehob and what they love about their jobs.
Mark Kistner, Electric Division
36 Years at Brehob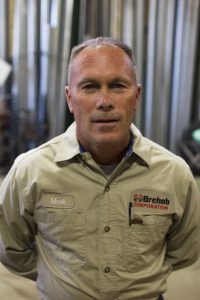 When Mark Kistner graduated from high school in 1981, his Uncle Rudy mentioned an available summer job at the company where he worked. It's a family-run company, Rudy told Mark, with an employee-friendly environment where the owner is there everyday, not in an office in another country like in most big companies.
Mark was hired as Brehob's 43rd employee, joining the team as a trainee to rewind motors. Today he's the Service Manager for the Electric Division, where he supervises and manages employees within the service department—from tech and support staff to other supervisors. His Uncle Rudy is still with the company, too.
Mark says when it comes to working at Brehob, he's proudest of the people, their knowledge and training, and their ability to get customers going again.
"It's a joy to work with the people here," he says. "Most companies specialize in one thing, but Brehob is so diverse and has a lot of experience in fixing different problems. When a customer calls with an issue and we're able to go in as a group and solve it, there's nothing more satisfying."
When he's not working, Mark likes to fish, hunt, and go to festivals with his family. He also donates several hours a month to his community. 
Jerry Dexter, Air Compressor Divison
33 Years at Brehob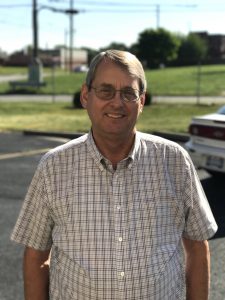 Originally from northern Indiana, Jerry Dexter served in the U.S. Air Force from 1969-1973 and started his career as a service manager for a popular chainsaw and power equipment manufacturer. He was looking for work in Indianapolis when he met Charlie Smither, who offered him a job as the first person in Brehob's Air Compressor division in 1984.
When he started, Jerry never imagined that the Air Compressor division would someday serve customers across multiple states. As an Air Compressor Purchasing Agent, he now manages sales requests, unit orders, re-order reports for parts, and more for customers from Michigan to Kentucky. He likes what he does and enjoys the satisfaction of making sure customers get what they need, when they need it.
When asked what makes Brehob different, Jerry says,
"We always take care of the customer. This was something that Charlie Smither implemented from the beginning and it's held true ever since."
In his free time, Jerry keeps busy with his five grand kids and their softball games. He also calls himself a "TV junkie"—Nashville is his favorite show right now—and enjoys playing golf.
"Don't be afraid to give Brehob a try!" he says. "We'll always do our best to get you what you need."
Judy Bellows, Crane & Hoist Division
40 Years at Brehob

Judy Bellows had been working in the automotive parts industry for five years when she decided to find a job closer to home. Her best friend's dad, Bill Shalter, was a foreman at Brehob—he told her about an open position in the stockroom.
It took a week for Brehob to decide to hire Judy. Why? Because she would be the first woman in the stockroom, and at that time, it was considered a risk to hire her. But it wasn't long before Charlie Smither recognized Judy's talent and work ethic. Soon she had increased sales of cranes and hoists so much that they had to separate it from the other divisions.
Now Judy is the Inside Sales Manager at Brehob, taking care of customers who need crane and hoist parts. She's been proud to be part of the company's growth over the last four decades—she was even featured in Hoosier Purchaser magazine in 1991—and says her favorite thing about working for Brehob is that it feels like a family.
"I have lots of brothers and dads," she says. "And there's no 'It's not my job' here at Brehob. Everyone works together to get things done."
Judy also appreciates the company's longevity and the experience that comes with it.
"The knowledge at Brehob is superb. It's our biggest strength. If a customer has a break down and can't wait for the factory, Brehob will have a solution."
When she's not at Brehob, you can find Judy hanging out with her friends, spending time with her family and her dog, or reading. She also enjoys religion and politics.
Congratulations to 20+ Years at Brehob!
Mark, Jerry, and Judy, are just three of the team members who have worked hard over the years to make Brehob successful. The following employees are all celebrating at least 20 years at the company. We're honored to have been a part of their lives for the long haul.
Pat Smither – 49 years
Rudy Brinker – 44 years
Judy Bellows – 40 years
Kurt Huber – 39 years
Jim Frankenberger – 37 years
Mark Kistner – 36 years
David Goedeker – 34 years
Dave Dennis – 34 years
Jerry Dexter – 33 years
Rick Raufeisen – 33 years
Rick Morris – 32 years
Rick East – 31 years
Rick Lamb – 30 years
Danny Breeden – 29 years
Jim Kistner – 29 years
Dennis Purkerson – 28 years
Newt Cooley – 27 years
John Young – 27 years
Randy Hornaday – 25 years
Bill Brown – 25 years
Troy Roth – 24 years
Don Charboneau – 24 years
Steve Kahles – 24 years
Jim Gullett – 23 years
Linda Coffey – 23 years
Danica Hornada – 23 years
Leo Hutchinson – 22 years
Allen Bland – 22 years
Doug Elmore – 22 years
Bill Donlan – 21 years
Tony Laws – 21 years
Chris Bechtel – 20 years
Henry Allen – 20 years
David Joe Dawson – 20 years
Jim Spencer – 20 years
Thank you all for being and continuing to be a huge part of what makes Brehob great!
Interested in joining our team? See available job openings here.